On Monday I asked if anyone had a favorite M-Mount lens. Here are some selected Comments. —Ed.
Pak-Ming Wan: "Oh this is easy: 35mm ƒ/2 Summicron ASPH, first generation, not coded, in chrome. I bought it second hand and it has been an absolute gem of a lens. It's better than the 50mm ƒ/2: easier to focus, and handling is just better in general. With a generic vintage metal hood, it's just the right length to grab and hold. The front element is concave and flat—very easy to clean with my shirt when I'm in the field.
"Are there better Leica M 35s? Yes, there are. But, I've particularly bonded with this one, and I bought it second hand so I have no qualms using it as my daily beater. Sure, the front element is slightly shaky and defocused, the focusing cam needs new grease, and it's beaten to heck and lost its red dot; but I have no fear taking it into any situation. And that makes it my favourite M-mount lens."
Allan Ostling: "The Kobalux Wide 28mm ƒ/3.5 in LTM mount, which I use it on my Minolta CLE with the appropriate Leica adapter (which is so small I forget that it is there). I have the version branded as an Avenon; it is the smallest 28mm lens ever produced that can be used on the M-mount."
Henning: "My 'favourite' M mount lens changes, but it usually is some 35mm focal length version. At the moment it's the Voigtlaender 35mm ƒ/2 Ultron Vintage Line Aspherical v. II. Now that they've fixed the handling in the v. II version, it's wonderful! Small, especially with the Heliopan 39mm short metal hood, sharp, low distortion and at least acceptable bokeh. Unfortunately, the 35mm lens with the bokeh I like best, the Zeiss 35mm Distagon ƒ/1.4, is too large for general use."
Jack Mac: "A new favorite of mine is the Leica Summicron-M 28mm ƒ/2 ASPH Matte:
"I don't think Ken has one yet. It gives me a Minolta M Rokkor image for ten times the price of the Minolta. But in ten years it will be worth twenty times what I paid for it and I will have taken 10,000 shots with it*. I like the retractable hood. Special note: the focusing tab is finally made out of metal rather than Leica's usual cost-saving plastic. Hey, reason enough to like this lens.
"Oh, and Mike, it's matte. So it will be perfectly matching the matte finish of the M10M, which it is mounted on in the photo, or the M10 Reporter. I would have had a shot of it on the M10 Reporter, but it's out on loan to a friend. You allowed readers to also submit photos shot with M lenses. So the photo of the 28mm matte was shot with a 90mm Macro-Elmar on the macro extension. The tiny Macro-Elmar is collapsible, and so I am willing to regularly bring it along.
"*If you like the 28mm field of view one could also buy a Leica Q2 and get the 28mm ƒ/1.7 and the camera itself for the price of the M mount lens. I did not do that."
Hikaru Masimoto: "Any lens from Miyazaki-san. The last few weeks I use the MS Optics ISM 50mm ƒ/1 M mount and love it."
darlene: "Another vote for the M-Rokkor 40mm ƒ/2.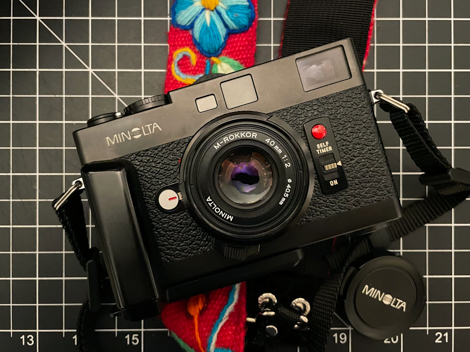 "Sorry for the fast iPhone snap, but my house is in a mess right now (new trusses and more after a weather related incident)."
Lee Rust: "I've had my 35mm Summicron for 24 years and it's the default lens on whichever M-camera I'm using, so I guess that makes it my favorite."
Nick Reith: "I had a 35mm Summicron pre-asph on a M6 and then later on a Ricoh GXR with a M mount module and found it wonderful on both."
Rip Sith: "A long time ago (1970-ish) on a trip to New York I used a borrowed Leica M3 and a couple of lenses. One of the lenses was the 21mm Schneider Super-Angulon. I ended up using it for probably 90% of the shots I took with that camera. I absolutely loved that lens. When I processed the Plus=X negatives, I could perceive the sharpness just by holding the negatives up to the light. Unfortunately, I have never been able to afford to buy such a kit."
Dave: "Voigtlander Nokton 35mm ƒ/1.2 Aspherical (version 1). Amazingly lovely lens, with a horrific minimum focus distance and weighs as much as a spaniel...."
Steve C: "The little 35mm Summicron ASPH. is a lens for life. I use it and love it more than any other—great wide open or stopped down. It's small and light and the focus throw is perfect. It's a rare day that it comes off the camera. But my heart is also taken by the 50mm Summilux ASPH. because, as Jay Burleson reminded me (perhaps to my financial detriment) it is absolutely breathtaking."
mike r in colorado: "Favorite M mount lens is the 50mm M-Hexanon ƒ/2. Works great on my M5's, good enough that I rarely think I need the Summicron. Second favorite M lens, Nikkor 50mm ƒ/2 LTM with an LTM-to-M adaptor. About 40 years older than the Hexanon and just as lovely."
Lothar Adler (partial comment): "The newer Zeiss ZM Sonnar 50mm ƒ/1.5 also very much deserves an honorable and esteemed mention, although I almost never use it because I don't like the angle of view of the 50mm lens, but the image characteristics and bokeh at ƒ/2 is actually wonderful."
Mark: "100mm ƒ/2.8 APO Macro Elmarit-R...the color...the rendering...the detail...the three-dimensional quality of the image...the King of Leica lenses, although my 80mm ƒ/1.4 Summilux was pretty special along with the 35mm Summicron-R and Summicron-M.
"...I know...only one l lens...but I need to add the 24mm ƒ/2.8 APO Elmarit-M to the list...amazing."
(posted by) Mike
Book o' the Week
Lincoln: A Photobiography by Russell Freedman. A very brief, illustrated overview of the life of America's 16th President suitable for young people.

This book link is a portal to Amazon.
B&H has something for everyone and something for you
Original contents copyright 2020 by Michael C. Johnston and/or the bylined author. All Rights Reserved. Links in this post may be to our affiliates; sales through affiliate links may benefit this site. As an Amazon Associate I earn from qualifying purchases.
(To see all the comments, click on the "Comments" link below.)
Featured Comments from:
hugh crawford: "The Kobalux Is the Bigfoot of optics. I've never seen one and believe me I have looked."
robert e: "This is my favorite kind of gear talk, by the way: not specs or measurements but what a piece of gear does and how it does it, what people use it for and how, how they work with peculiar strengths, weaknesses and quirks, and what it gives back in return."