...And if so, for good or bad?
I know people of both types, so it doesn't have to be one way or the other (Peter did some of the best photojournalistic work of his life, for example). Anyway, I was just wondering.
Mike
Book o' the Week:

Byways: Photographs by Roger A Deakins. Damiani, September 2021. Note: PRE-ORDER ONLY. The little birdies are telling me that these will go fast. This is the first monograph by the legendary Oscar-winning cinematographer Sir Roger A. Deakins (born 1949), best known for his collaborations with directors such as the Coen brothers, Sam Mendes and Denis Villeneuve.
Original contents copyright 2021 by Michael C. Johnston and/or the bylined author. All Rights Reserved. Links in this post may be to our affiliates; sales through affiliate links may benefit this site.
(To see all the comments, click on the "Comments" link below.)
Featured Comments from:
Tex Andrews: "Yes, in two ways. Did much less personal work, but somewhat more professional work, including work for our new catalog at the Hirshhorn, the first refresh of our collections catalog in 40+ years (as one of several photographers, plus existing images we had from our previous full time person), so very pleased about that. Includes some linkable video material as well. Other projects got attenuated or cancelled, sadly."
Ron Hoffer: "Having my photo memoir From the Bronx to Berlin and Beyond published by Kerber-Verlag in Germany right before the global lockdown meant a 10-month delay until copies made it to the U.S. distributer (you may recall I sent you a copy). I had been looking forward to an April 2020 launch in NYC, followed by fun book signings and parties in the U.S. and Europe; all of which were cancelled. Oh well, still some progress as I've had online presentations and featured on the Film Photography Project podcast. Hoping for a gallery show ahead. But the time was helpful in that I was able to put together an album of photos and mementos from my family's history, focusing on the period of 1900-late '60s, and self-published with Blurb. Still so fortunate to have a pension rather than rely on photography to keep food on the table!"
Mike replies: I did receive your book and I thank you for it! Strong work, and congratulations on publication. I enjoyed looking at it.
Jim Kofron: Yes. There were a number of non-pandemic factors involved (falling in love, selling a house, moving, getting a bike), but I've done virtually no 'serious' photography in the last couple years. And honestly, I'm OK with that. I'll get back to it when I'm ready."
Kodachromeguy: "Good! I Reactivated my 4×5" camera and made a serious exploration of the Mississippi Delta using black-and-white film of different formats. We were not restricted or made to stay indoors here, so there was no problem with traveling around the state."
Nick: "It basically stomped it out of existence. I need to get out of the house and see new places in order to take decent photos; spending months within walking distance of my house nearly killed the hobby for me entirely. I'm vaccinated and traveling again soon, which I hope will wake up my eye."
William Schneider: "The confluence of pandemic restrictions and a chronically ill relative provided a push into a new direction for me—bird photography. My wife urged me to send a photo-a-day (sound familiar?) of our splendid backyard birds to cheer him up. For over a year now, I have sent to him a daily email with a new bird photo and a short upbeat note. I learned to enjoy this project enough to purchase some dedicated photo equipment and the excellent book Mastering Bird Photography by Marie Read for inspiration."
Matt: "Definite negative effect. The majority of my photography was events, concerts, and portraits. The types of photography the are most accessible during lockdown don't really appeal to me."
Bob Rosinsky: "The pandemic had a huge impact on my choice of subject matter. During the early days of sheltering in, I started playing around with making ersatz UFO pictures. COVID-19 seemed to fall from the sky, and UFOs served as a perfect metaphor. I shot most of the pictures on film, then digitized the negatives and drew in the UFOs in post."
Mike replies: You are a very creative guy Bob.
Thomas Rink: "Definitely for good. In March 2020, my employer relegated all of us to work from home. For me, this meant two additional hours of available time per day. Since my current project is about a place close to my home, travel restrictions have not been an impediment, and the government of the German state where I live (North Rhine-Westphalia) has never significantly restricted individual mobility (as, for example, the French government had). During my past life—up to the onset of the pandemic—nothing much has changed. I've always taken this as a given. The events of March 2020 really challenged this certainty; it became clear to me that if I'd wanted to get something done with my photography, the time for that is now, as the future is always uncertain. In addition to photography, during the last year I committed a lot of time into producing a small edition of inkjet-printed, handmade books from one of my projects. For me, this was a deeply satisfying experience. Definitely something I will repeat in the future."
Markus: "Yes, of course it did, and admittedly I felt quite restricted when basically hobbled to my hometown. But soon I discovered a (for me) new theme that was easily collected on my various ramblings: minor landscapes like this one: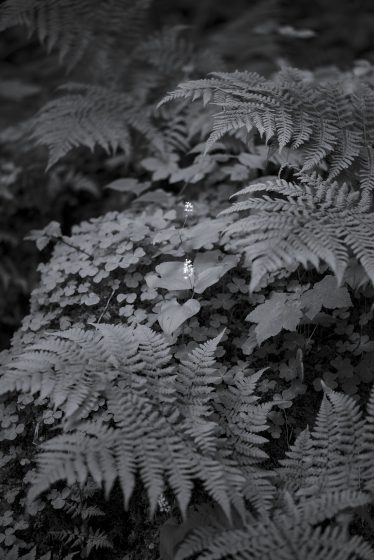 "In the end I turned out enriched, especially by the fact that I had to turn my head and change my way of seeing."
Marcin Wuu: "Ruined it would be just about right way to put it. In shambles is another one."
Kenneth Wajda: "I was extremely prolific. I did a project out my front door of people passing the alley across the street: https://kennethwajda.com/alley/
"Plus during the summer, I had a goal of making four 4x5 photos a day, which if you need four photos, you find four photos: https://KennethWajda.com/4x4x5/
"I continued to make photos for http://TheWisePhotoProject.com of elderly folks.
"And I worked on making photos from my car for my street photography gallery: http://coloradofaces.com
"Plus photos for my http://RoyStryker.com documentary project, which I published three times a week.
"I am a believer that the muse exists, but she has to find you working. So many people wait to be inspired but that's not how inspiration works."
Mike replies: I always enjoy looking at your photos Kenneth. I looked through everything linked here—whew! A lot.
Phil Martin: "Yes, it actually gave me the time to trawl through and edit all my folders and files and discover that I'd actually done quite a lot of work to be pleased about. I now feel much more positive about photography and working towards some more coherent projects."
s.wolters: "Artistic low but a peak of production. Digitized my slide archive and then some."
Tom Rawson: "We have lived in the Kansas Flint Hills for thirty years but had never really explored them…always opting to take vacations in other states (usually Colorado) and foreign countries. As a result, most of my photography involved mountain landscapes and wildlife. Since travel was so restricted during the pandemic, we were 'forced' to explore our own beautiful surroundings. In the process, I became interested in abandoned one-room country schools and began photographing them. After exploring and photographing more than fifty of these schools, I self-published a book titled Pioneer Prairie Learning: 50 One Room Schools in the Kansas Flint Hills."
Geoff Wittig: "The pandemic changed things dramatically for me. Lots of 100 hour weeks working as a physician, plenty of desperately ill patients, endless stress. Thankfully most of this is ebbing now in our area. Previously I would visit promising 'showboat' locations for landscape photography with a giant bag full of bodies and lenses, heavy tripod, filters etc., to try to get that one great image. This past year I felt the need for distance and solace. So I did a lot of hiking on remote trails with one X-H1 body and one lens, the 16–80mm ƒ/4 zoom. I've gotten to know the corners of my rural region far better than I did over the previous 33 years I've lived here, and my photographs are definitely different. Quieter, less dramatic, more meditative."
Mark Crean: "I've gone off and started a photography degree online during the pandemic. This has changed everything about my photography while also keeping me busy and focused (a godsend during difficult times). Having to concentrate on a few square miles around my home during the long lockdowns here has also changed the way I look, because this has obliged me to immerse myself in one place and research it. I've learned by walking and more walking. Research has uncovered layers of history and land use as well as amazing stories about past lives that I never knew were there. It's so easy to overlook the past. Anyway, there is some richness in all of this even though it's been a pretty horrible time for so many of us."
PDLanum: "I shot several thousand images in 2019. 2020—four (4) with my DSLR. I shot about six (6) with my phone.
"I did spend some of the time (most of it photo editing) keywording my 30,000 images taken over the years.
"This year I have taken less then two hundred images. I have removed my 'brand' affiliation from web sites and now post rarely.
"I am trying to figure out how to extract myself from shooting for the non-profits I shot for last year. The body I have is most likely the last one I will ever purchase. The lenses are starting to have internal motor failures and shooting just is not fun anymore.
"We had to cancel a vacation to Norway; maybe next year. I just got off of a 'staycation' (one day), took a few images. My better half and son were walking from the stadium to the Hotel and when I stopped to shoot something all I got was dirty looks and comments about keeping up.
"Seriously thinking it is time to just give up."
Keith S: "I thought I was done with photography. I still enjoyed it but my interest and energy for it were a small fraction of what they used to be. I was only getting one or two pictures a year that I liked. It had been like that for over 10 years.
"When the lockdown started, I was riding my bike more because of the quiet, empty streets. From April to June, the entirety of Marin Headlands (on the north side of the Golden Gate Bridge) was closed to vehicles, turning it into a once-in-a-lifetime paradise for cycling. I rode across the bridge every day and climbed up to Hawk Hill which is one of the highest points there. That's when I found the ravens, or they found me. I had no prior interest in ravens, photographically or otherwise. But something just clicked and I visited them every day, and after getting to know them, I began photographing them. I've been photographing ravens almost exclusively since then and my enthusiasm for photography is back to what it used to be.
"As the world is opening back up, roads are overflowing with cars, and life is returning to 'normal,' a part of me wishes it could remain in Spring of last year."