For those following along, here's my 4x5 with the new-old lens on it. (The camera is a rosewood Wista 45DXII, the lens a Calumet Caltar II-N 135mm ƒ/5.6.) I got the lensboard off eBay. You have to get one with the right sized hole—this lens has a Copal 0 (zero or zed) shutter, so (naturally) I got one with a Copal 0 hole.
For those who might know little to nothing about view cameras, to mount a lens on a lensboard is simple. The rear cell of the lens unscrews from the back of the shutter. Then you remove the retaining ring.
Clockwise from front: rear optical cell; plastic lenscap; retaining
ring; and the rest of the lens, here set
down with its front cell facing down
Simply seat the lens on the board, fix in place with the retaining ring, tighten with a lens spanner wrench (here's one of those on Amazon). Actually what I do is just hold it in place and rotate the shutter itself a little until tight, taking care that the retaining ring isn't riding up on one edge of the hole in the board. Then replace the back cell.
Rear cell of lens on board, showing retaining ring
By the way the lens board is a "board" even if it's made of metal. And the hole is said to be "drilled" even if it wasn't, as in, "a Technika metal lensboard drilled for a Copal 1 shutter."
There's a lens in there. Chien ancien in background.
The camera folds up with the lens on it! Which is not necessary and not something you can do with most lenses because they're too large. Normally you'd remove the lens on its lensboard and put it in your bag. But setting up and knocking down the camera in the field is a process you might go through many times in a day or half-day of shooting, so eliminating steps saves time. So it's nice.
Keiichiro Nagaoka
You might recall our posts on Nagaoka cameras, handmade in Japan, here and here. The first was called "Last Man Standing." Alas, the last man is perhaps no longer standing. I have not been able to confirm the news through journalistic channels, but we have heard multiple rumors now that Keiichiro Nagaoka recently passed away. We heard from a friend of a friend of a friend that he entered the hospital, where he was unable to receive visits from his family due to the cursed COVID-19, and never came out again. Deep respect to Nagaoka-san and his family. His work lives on. He lived his life doing what he wanted to do!
Old view cameras never die, but they do migrate
While I'm still on the topic of old view cameras, our friend Ned (the retired President of Pentax USA) recently gifted his old Kodak to our friend Christopher (whose print I critiqued here—I'm going to do more print crits soon, by the way)—and Christopher decided to use his old Kodak lens with it and shoot Kodak transparency film, for a spiffy all-Kodak outfit. Without pictures it didn't happen, so here's the picture:
Photo by Christopher J. May
Sweet!
Mike
(Thanks to Ned, Chris, and the many readers who send news)
Original contents copyright 2020 by Michael C. Johnston and/or the bylined author. All Rights Reserved. Links in this post may be to our affiliates; sales through affiliate links may benefit this site. As an Amazon Associate I earn from qualifying purchases.
Thanks to all our Patreon contributors!
(To see all the comments, click on the "Comments" link below.)
Featured Comments from:
David Dyer-Bennet: "I'd never really considered the process of mounting a lens on a view camera lens board before. Now that you've laid it out so clearly, I'm startled that the positioning of the rear cell is sufficiently precise! I would have expected the distance of the rear cell from the front cell to be critical to the usual sorts of optical tolerances, and I wouldn't have thought screwing down a nut, even metal-on-metal, would be sufficiently precise. Learn something new every day! (On consideration, probably the precision needed in large-format lenses is somewhat less than miniature formats, for one thing.)"
William Schneider replies to David: "The front and rear lens cells are precisely spaced, but the shutter retaining ring has nothing to do with it. Here are some illustrations that show how the retaining ring and rear lens cell attach. That should demonstrate how precision is achieved...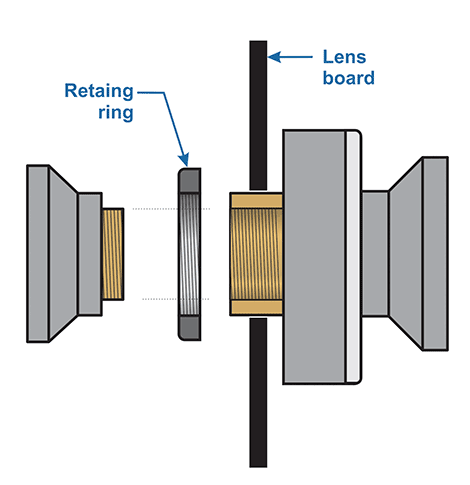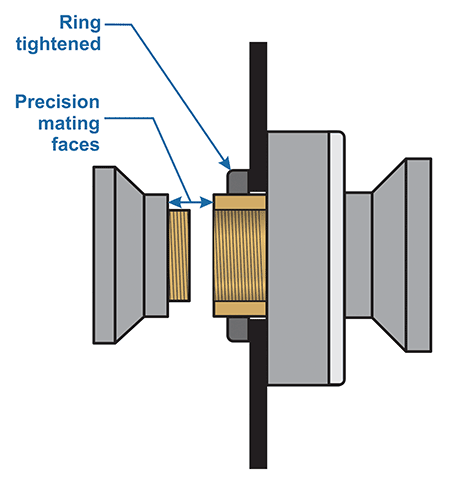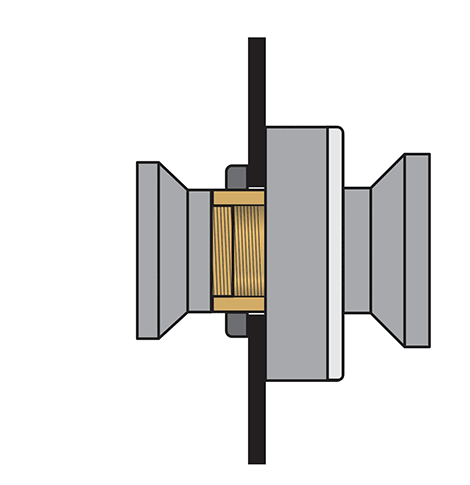 Mike adds: Yes, and the cells do have to be precision calibrated to each individual shutter, which is why shutters aren't considered user-interchangeable. Old lenses can be mounted in new shutters, but only by specialists, for instance by S.K. Grimes, "The Photographer's Machinist."  These days you would also have to have a donor shutter, as Copal stopped making new shutters in 2013. I don't know whether Compur shutters are still made or not.

Bill Tyler replies to David: "The positioning of the two cells is quite precise. The retaining ring holds the front cell in place, but neither the retaining ring nor the thickness of the board interfere with the rear cell as you screw it in. There's enough of the front cell's rear that extends past the board so that the two cells mate precisely. And yes, for most lenses, that spacing is critical. Incidentally, lens boards are quite easy to make for most view cameras for anyone with a modest supply of tools. They're just square pieces of wood or metal with a hole in the middle, except for some camera, like the Graphics, for which the lens board actually has a lip around the edge."
Rob de Loe: "I've mentioned previously in these comments that I'm done with film. That's it! Done done done. Never coming back. But...someone introduced me to Portrait Pro and Portrait Body Pro software over the weekend. I knew this kind of thing existed, but I didn't really know if you know what I mean. I thought 'Sky Replacement' was bad. After checking out Portrait Body Pro, I actually felt ill. I hate everything about what this kind of software is doing, and will do, to photography. And so while going for a walk to shake off the queasy feeling, I thought to myself, 'I guess I'll have to go back to film after all.' Nope, not doing it! But really, within a decade, at the outside, film will be the only way to make a remotely authentic photograph. So good for you, Mike, for getting ahead of the curve!"
Mike replies: I advocated in the 'nineties for letting the word "photography" and related words stand for old-fashioned optical-chemical photography as it was understood up until the digital era, saying we should use "digital imaging" and related words for the new technology. Alas, digital had low status in the beginning, which inevitably led to the co-optation of the word "photograph" for its results, the better to claim equal status for it. Now that it has more than equal status, it's too late to go back to terminology that makes the sensible distinction.