Image pair. iPhone 7 Plus, taken last Tuesday. This one's still in progress, no pun intended.

Although it masquerades as being altrusitic and exalted, the Art World (cap-cap) is a lot about status. That's why we call pictures "images" now—because photo-based artworks that were not strictly straight photographs were called images to differentiate them, and the practice spread from there to all photographs presented as art in museums, and then soon, because it was clearly a marker of status, to all photographs. (I personally still prefer picture, a more specific and actually more dignified word. It will come back into fashion someday.)
Image pair. Pictures in the frame taken with a Contax 139Q and Carl Zeiss 35mm ƒ/2.8 lens on Kodak Plus-X and printed on Ilford Galerie, 1980s.
"Diptych" (dip-tick) simply means any two flat surfaces hinged in the middle. In the medieval world the format was common for many things, including decorated screens, wax writing tablets, and ecclesiastical devotional paintings. Because the word (and less frequently triptych, meaning three hinged panels) was frequently seen in museums, it came to be applied, for status-indicating purposes, to any discrete pair of, yes, images presented side by side. Unfortunately for the status-mongers, the proper word for two separate pictures presented together is really just the plain, unadorned word "pair."
I've always liked working with image pairs, I think because I love photobooks so much. I know Ralph Gibson works very hard to find the right image pairs for facing pages, and one of the reasons I love Paul Caponigro's The Wise Silence so much is the way pictures on facing pages in that book work together—something Paul and his then-wife, the distinguished book designer Eleanor Morris Caponigro, worked on very deliberately.
Mike Johnston, Berkeley, 2015. Fuji X-T1 and XF 14mm ƒ/2.8.
It's both an easier and a more difficult way to work—easier because sometimes pictures which aren't quite enough alone can inform and enrich each other and become more than the sum of the two, and more difficult because sometimes the proper pairing can be elusive.
One thing I've found over the years is that it's visual work. That is, you might have an idea about which two pictures will work together as a pair, but it's not until you simply see them together that you really know. And then, as with all pictures, it takes living with them for a few days to know if you've got something or not. So it's best to work with small workprints. You could also work out a way of doing it on the computer, of course. However you do it, don't do it in your head—the work is done with the eyes.
John Paul Caponigro, Uyuni, Bolivia, 2012, an iPhone image, and Paul Caponigro, Frosted Window, Revere, Massachusetts, 1957, a view camera film photograph, printed together on one 17x22" sheet. A TOP Print Offer from 2013. (Pairing by Paul.)
As with all editing, sometimes things you really want to work just don't, and sometimes visual combinations you don't suspect will work, do. It's fun. And very satisfying, when it works.
Try it!
Mike
Original contents copyright 2017 by Michael C. Johnston and/or the bylined author. All Rights Reserved. Links in this post may be to our affiliates; sales through affiliate links may benefit this site.
B&H Photo • Amazon US • Amazon UK
Amazon Germany • Amazon Canada • Adorama
(To see all the comments, click on the "Comments" link below.)
Featured Comments from:
hugh crawford: "I once bought a half frame camera specifically to make diptychs.
"Currently I'm on a nonatych binge (if that's Greek to you it just means nine images or whatever). Since I'm laying out over 750 of them for the Jamie Livingston book.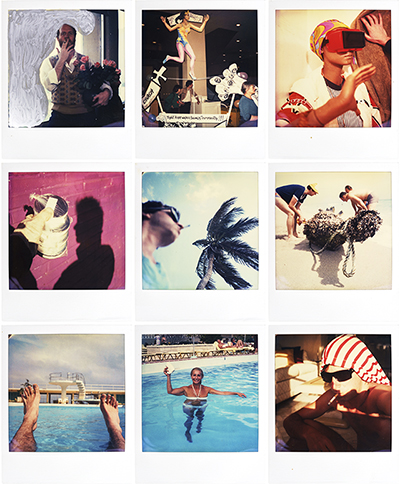 "This one just blows me away."