Image stabilization in the lens, sometimes called optical image stabilization or OIS, is one application of the feature. The other—more common more recently it would seem—is in-body stabilization, or IBIS.
Various arguments are put forth touting one over the other. The biggest difference is that OIS works better for longer telephoto lenses, needing smaller movement for correction, and IBIS works for all the lenses that fit on a body. That's been part of the fun with mirrorless cameras, many of which can use all sorts of different kinds of old and different lenses via adapters.
But here's the likely reason Canon uses in-lens IS and not IBIS: because the company developed the technology for binoculars.
Current Canon 10x30 IS II image-stabilized binoculars
And then it made the next logical step—it incorporated the same technology into a camera lens. But a lens for film cameras—which virtually all serious consumer cameras were in 1995, when the first real IS lens, the Canon EF 75–300mm ƒ/4–5.6 IS USM, was introduced.
(By the way, the claim that Nikon "invented" IS because it incorporated crude vibration-reduction in a 1994 film point-and-shoot, the Zoom 700VR, is pretty specious. Canon was so far ahead of Nikon where in-lens IS is concerned that Japan's Ministry of International Trade and Industry [MITI], which essentially ran most of the country's industrial policy during Japan's dominant years, had to pressure Canon to share it with Nikon for the good of the mother country. According to some insider rumors at the time.)
Makes sense that a film camera would have to use in-lens IS, doesn't it? Hard to shift a sensor when there's no sensor to shift.
The only mainstream film camera I know of from that era that could actually move the film plane around was the Contax AX (1996), a "Frankencamera" of sorts born of Yashica's frustration with Zeiss. Yashica had partnered with Zeiss since Zeiss stopped making cameras in 1972, the two companies taking the old Zeiss model name "Contax" as a brand name, but Zeiss was reportedly a cantankerous partner in those days. According to mumbled asides from my contacts at Contax back then, I gathered that Zeiss didn't bend over backwards to cooperate with Yashica and Yashica wasn't in the driver's seat in the relationship, despite supplying most of the technology (and money). Zeiss decided what it would build and Yashica had to order runs of lenses and pay for them pretty much like Zeiss was an OEM and Yashica was any old outside customer. Anyway, when autofocus came along, Yashica asked Zeiss to build autofocus lenses, and Zeiss said nope, ain't gonna do it. Or the German equivalent. There was too much slop in AF mechanisms at the time, and Zeiss was unwilling to compromise film-plane parallelism and mechanical integrity. But Yashica had some pretty serious engineering chops, and, because it was so eager to build an AF Contax anyway, it engineered the AX to move the film plane up and back as an end-around means of achieving AF with manual-focus lenses! Weird, but then camera history is full of weirdness. The few people who actually used it tended to like the AX, but even though it moved the whole film transport mechanism it wasn't "sensor shift" in any way that had anything to do with image stabilization.
Anyway, the fact that it was developed in the film era via binoculars, along with its continuing suitability to long teles, is no doubt why Canon sticks with in-lens IS today. That is, it's due to the historical circumstances and timing of its development as much as to the superiority of the one strategy over the other. I'm sure the sensor-shift IS patents mostly belong to others, too, although I can't back that up. (the Internet seems woefully deficient in industrial history generally, and I don't find much about the history of image stabilization; for some of the information in this post I'm just relying on my potentially fallible memory.)
Where Canon (and Nikon) seem to be exposed these days is not precisely in the lack of IBIS as in dual-IS technology, where in-lens and in-body stabilization work together in concert. This area of camera tech isn't quite up to speed yet, from what I've seen of it so far, but it likely will be soon.
Meanwhile, Olympus leads with IBIS, probably with Sony in second place; people are taking sharp pictures at exposure times up to several seconds with the "overdeveloped" E-M1 Mark II, and Olympus claims that IS technology is limited by the movement of the earth, which doesn't make much sense to my small brain but sure sounds impressive.
It's pretty astonishing that IS works at all, much less that it works so well. I remember the first time I ever experienced it...with some then-brand-new Canon binoculars that my late uncle Cam purchased for watching sailboat races. The steadying effect on the image, handheld on a moving boat, was wondrous. All these years later, IS still seems like a pretty wonderful feature to me—but then, I've always been a handheld photographer, and one who likes to shoot in low light.
Mike
(Thanks to John McMillin)
Original contents copyright 2017 by Michael C. Johnston and/or the bylined author. All Rights Reserved. Links in this post may be to our affiliates; sales through affiliate links may benefit this site.
Like what you read?
Give Mike a "Like" or Buy yourself something nice
(To see all the comments, click on the "Comments" link below.)
Featured Comments from:
William Schneider: "Oh, a binocular post! I use a pair of Canon 10x42 L IS WP binoculars for astronomy and the IS feature is outstanding beyond words. The Canon optics are first rate, so even if the IS feature fails someday, they are still sharper and provide a wider view than my other binoculars.
"You mention having used a pair on a boat. Shown below is a page from the user's manual giving one reason why the 10x42 L IS WP binoculars may be a top choice for people who use binoculars around water."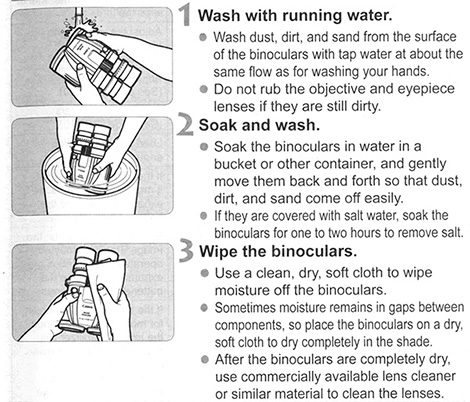 Scott Kirkpatrick (partial comment): "The multi-seconds hand-held exposures with Olympus E-M1 Mark II are real—I've done it, and you can read about it by others in various places. But it requires combining IBIS and OIS in one special  lens, the Olympus 12–100mm ƒ/4 IS PRO."
Richard Skoonberg: "Leaders in IBIS? Mike, you are a former Pentaxian! You forgot to mention the Pentax K-1, which uses its IBIS for its Pixel Shift Resolution, which is utterly amazing with still subjects—rivaling medium format; its Astrotrace technology, which allows it to take up to five minute exposures by moving the sensor in concert with its GPS; and the K-1 also provides modest level and perspective correction in-camera.
"Plus the K-1 offers 4–5 stops of image stabilization."
Bob Johnston: "I suspect that the use of IBIS vs. OIS has more to do with patent ownership than anything else. As far as I can remember Minolta were the first to have IBIS. According to Wikipedia they used it in the Dimage A1 in 2003. They certainly were the first to use it in a DSLR—the Dynax 7D (Maxxum 7D) in 2004 or 2005. They called it AS—Anti Shake. Of course Sony inherited the patents and have a large share in Olympus."
Mike replies: I owned a Konica-Minolta 7D that I bought used in 2006. It was really one of my favorite cameras ever. The AS on mine seemed to work wonders—it sold me on the feature, and I wouldn't swear that any of the cameras I've tried since then that had some form of IS have worked as well...I'm quite sure a few of them didn't. The color accuracy was also excellent. I would have used mine far longer than I did, but I started experiencing electronic glitches and Sony wouldn't repair it. I still have the old K-M 7D somewhere.
John McMillin: "Another historic factor favoring Canon's allegiance to OIS—it was the only way to stabilize the image in an OVF, which was the universal standard. A stable VF image is especially important in telephoto work, which lines right up with Canon's market niche. Today, with EVFs feeding live images from the sensor, IBIS stabilizes the observed image, too, negating this advantage.
"The third advantage of OIS for Canon and Nikon is how it boosts consumer interest in buying new OEM lenses. If you lived through the first OIS revolution, you probably replaced most of your EF lenses (which you'd bought a decade before to replace your MF lenses). Then, when improved generations of OIS arrived, that was another reason to trade up again. What would it cost to upgrade a standard set of pro zooms and long primes? Plenty, and Canon likes it that way. Meanwhile, owners of Minolta, then Sony, and now Pentax DSLRs are content to know that each new camera body will probably improve the IBIS performance of all our current lenses.
"But you know that, Mike—that was your advice, IIRC, about the first two. (And thanks for the credit, too! I've made the same point on various forums to tepid response, so I'm happy that you could run with it here.)"
Sid: "Having used my Canon 10x42 L IS binoculars for birding for more than a decade, I am still delighted by their performance, optically, electronically, and mechanically. Now and then I use my Canon 10x30 IS binoculars, the original version, because they're lighter and more compact, though they're no match for the excellence of the 10x42. If Canon should offer a Mark II upgrade of the 10x42, I'd likely be a buyer."