Written by Mike Plews
It certainly looks like Fuji is on the way to become what Leica used to be. From out here in the cheap seats I can see three clear indicators.
For the first, we need to jump into the wayback machine to the days of pre-digital photojournalism. I'm talking local photojournalism here, not at the national level. Back in the day, a well turned out "local cheesehead" had a bag full of Nikons and at least one M-series Leica, usually with a 35mm ƒ/2 attached, for those chores that only a Leica could do.
(By the way, in this case "cheesehead" does not refer to people from Wisconsin. It is a term of endearment reserved for the local press by the nationals when they think we are out of earshot.)
Since digital took over I have never seen a local sporting a digital Leica, but I am now seeing a lot of Fuji gear tucked away in amongst the Canon artillery. The Fujis are now being called upon to do what Leicas once did. No doubt there are people at the national level shooting digital Leicas but not out here in the provinces.
The second indicator is that at least two Fujis look like Leicas, and people love them like Leicas.
The third indicator is the uptick in Fuji lens voodoo. I am starting to hear Fuji glass being described in highly subjective glowing terms not unlike those formerly reserved for Dagors and Rodenstock enlarging lenses. (I read once that Leica glass exhibited "a sort of roundness" that no other lenses had. I have no idea what "roundness" means in this context. I hope it isn't spherical aberration.)
Fuji is clearly on its game. The best still PJ I know raves about his Fuji cameras, and it's not about romance, it's about performance.
If I was starting from scratch and had the scratch I suspect a Fuji and few snout-nosed primes would do me just fine.
Mike P.
©2017 by Michael Plews, all rights reserved
Mike Plews is a TV news photographer and a lifelong still photographer who has been taking pictures since 1963. He says he is a "longtime TOP fan." He lives on a farm in the American Midwest.
Links in this post may be to our affiliates; sales through affiliate links may benefit this site.
TOP/Yale Spring Photo Book Offer
(Ending Soon!)
(To see all the comments, click on the "Comments" link below.)
Featured Comments from:
Patrick: "You make an excellent point. I've recently finalized my transition from Nikon to Fuji for my documentary wedding work. For a while I shot both side by side while working. I remember one quiet ceremony where I put the Fuji X-T2 on silent electronic shutter, shooting unnoticed. Then I pulled out the Nikon D800E (my long-lens camera at the time) and the sound of the shutter in comparison was so loud that half the guests turned to see what was going on. I quickly switched back to the Fuji for the remainder of the ceremony and made it a point to replace the Nikon as quickly as I could. The DSLR shutter never bothered me in the years I shot weddings up to that point, but suddenly it was embarrassingly noisy when put against the silence of the Fuji."
Stephen Scharf: "Just one more comment regarding Mike P.'s really nice article: here's a nice example demonstrating how Fujis are 'now being called on to do what Leicas once did.'
"One of my photo assignments at the NASCAR SaveMart 350 for Sonoma Raceway last weekend was to cover the NASCAR Euro Whelen Series driver, Alon Day, from Israel. The PR Director for the NASCAR Euro Whelen series wanted coverage of Alon as a guest driver in the 'big USA race.'
"Here's a photo I took of Alon during his press conference with the wonderful little Fuji X100F, which was perfect for this shooting scenario as it just 'gets out tof the way.'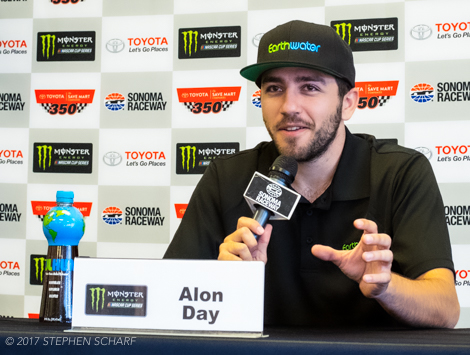 "By the way, this photo was taken the X100F's little in-camera flash which I find to be very 'intelligent' and provides just the right amount of fill to look natural."
Simon Robinson: "Funny—I've just gone the other way and sold my Fuji X100F and got a Leica. The problem with the Fuji was the out-of-focus areas: sometimes they looked terrible—terrible enough to ruin a photo. Even if Fuji stopped using X-Trans sensors in their ASP-C cameras I wouldn't be tempted to go back, as I'm loving using the Leica and find it the perfect camera for me."
Ken Ford: "I know that I'm impressed enough with the 'training wheels' X-Pro1 / 35mm WR combo I picked up last year that I'm almost certainly going to offload my M-P 240 (and a whole bunch of other stuff) and pick up an X-Pro2 with 23mm ƒ/2 and 50mmƒ/2 as a Leica M replacement."
Jackson Bart: "The Leica M10 is the new Leica."
Paulo Bizarro: "No doubt Fujis look good, they look the part, you can even mount M glass via adapters. But...you can also mount M glass on a Sony A7, and keep the focal length as intended. Just saying...."
Andre Y: "I still stand by my claim that the iPhone is the new old Leica."
Alex: I think of my X-T1 as a Nikon SLR. In use it's basically a FE2. I keep it on aperture priority, shoot manual lenses about half the time, and make frequent use of exposure compensation."
Mike replies: Y'know, this wasn't my post, but I really like your idea. Possibly because I've been hearing people clamor for a digital Nikon FM/FE/FE2/FM2/FM3a since just about the time of the 6-MP Nikon D100 (that was 15 years ago, which is 105 in dog years and about 45 in digital camera years). The X-T1 is much more complicated, of course, but in many other ways, you may just have hit the nail on the head.