Retro, adj., from Latin, through French: Relating to, reviving, or
honoring the styles and fashions of the past.
Cameras can be beautiful. They've inspired not only endless fascination since very near the beginning, but truly endless iterations. The newest thing spawns the next thing. Just as each newborn babe, as it is said, is nature's attempt to take two imperfect adults and blend the best of them to create a perfect human, so every imperfect existing camera seems to issue a built-in challenge: improve this and it will be perfect. In cameradom, nothing is ever so good that someone doesn't want to improve it almost immediately.
One of the great designs in the ongoing evolution of cameras was German designer Luigi Colani's Canon T90 of 1986, the last top-of-the-line manual-focus-only camera from Canon. But the T90 can be said to have created a monster, too: the Canikon juggernaut and its tagalong wannabees quickly settled on a relentless succession of "black-blob polycarbonate" (BBP) SLRs and DSLRs, a style that has been hugely successful. And is definitely still with us.
The style has mostly been successful collectively, it should be added. It's when it comes down to each ultraconservative, unchanged, derivative BBP model that we run into problems. Consider what DPReview said of the very newest Canon, the 77D:
...This camera is still pretty plasticky. It's still a black hunk of DSLR. It's not going to win any beauty contests or elicit 'oohs' and 'ahhs' from strangers on the street...
That is certainly correct. The 77D is plain to the point of being homely. The DPReview writer, Carey Rose, then adds to "strangers on the street":
...or your friends at the bar with their retro-styled mirrorless cameras.
Aha.
That puts a finger on it. Partly, retro sells because it's pretty; partly, though, it's a reaction to the endless undifferentiated parade of anonymous, anodyne, ugly-duckling BBP DSLRs. Because too much same-old gets old in its own way.
I'm honestly not sure how I feel about retro. Is it...necessary? No—even its fans know it's a tiny bit frivolous. Is it even historically accurate? Not really. Is it authentic? Ah, get outta here, who cares!
I think I like it; it certainly exerts a kind of guilty-pleasure pull. I do feel that. Yet sentient intelligent people have learned to be just a little on the alert against the crude suck of guilty pleasures.
But let's be honest: when retro works, it works.
Two nutshell summaries of TOP's nominations for the Two Most Beautiful Retro-Styled IL* Cameras:
Celebrating Japan: The Fuji X-T20. Some art school graduate or graduates had a very satisfying time at their virtual drawing boards with this one. Like a Miata channels the classic British two-seater sports car, the X-T20 channels many of the "manual, mechanical, metal" SLRs of Japan's 1960s and 1970s, the exciting days when the Pacific island nation was overtaking Germany as the world's leading cameramaking country. In one perfectly-proportioned device, it embodies the spirit of bygone things like old Mirandas, Topcons, and, yes, Fujicas. The X-T20 says those were great days.
Celebrating Germany: It's hard to say whether the Olympus Pen-F (currently on sale for $200 off) evokes the spirit of the historical half-frame Maitani-designed Pens with a dash of early Leicas thrown in, or whether it tilts the other way and evokes the screwmount Leicas with a dose of the old Pens thrown in for the sake of plausible deniability. I lean toward the latter theory. Either way, Olympus, always a creative company, went all-in to craft a beautiful little jewel. It succeeded. The Pen-F is a beautiful object in a way that a BBP camera can never be. And pleasing in the way that only beauty can be pleasing.
It's possible someone out there might not agree with these choices. It's more possible that someone out there might have a different take on the whole "retro" thing as a culture-wide phenomenon. But I think it's a good impulse; in our throwaway society, it's good to let styles evolve, through refinement, and not chuck the successes of the past out the window just for the sake of relentless knee-jerk neomania. Style is fun too.
And neither of these cameras is just a pretty face, either. Both are highly specified, highly capable picture-takers.
But being pretty doesn't hurt.
Mike
*I have to specify that I mean "IL"—interchangeable-lens—cameras, or else Fuji X100F owners and aspirants will form a mob and pursue me with pitchforks and torches. Or perhaps tasers and LED flashlights.
Original contents copyright 2017 by Michael C. Johnston and/or the bylined author. All Rights Reserved. Links in this post may be to our affiliates; sales through affiliate links may benefit this site.
TOP/Yale Spring Photo Book Offer
(Ends June 30th or when supplies run out)
(To see all the comments, click on the "Comments" link below.)
Featured Comments from:
Steve Biro: "What can I say? I own both the X-T20 and the Pen F. Does that make me shallow?"
Mike replies: No, it makes you discerning. Knowing the first name of more than one member of the Kardashian family makes you shallow.
Stephen Scharf: "While I like Oly's effort with the Pen F, and the X-T20 is a great camera, I personally don't find it particularly attractive.
"Neither compares to the camera that started it all, the 'king of retro,' the Fuji X100-series. When this camera was first announced at the end of 2010, it caused the heartbeat of many, many a photographer to quicken.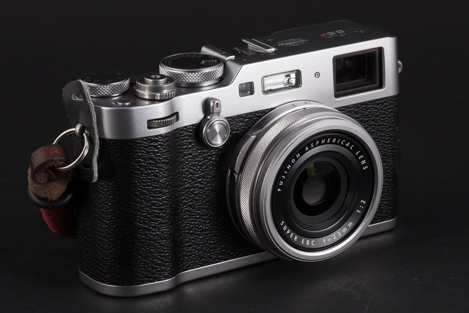 "The original retro camera and still the best, IMHO. What started as a cool but definitely quirky camera has, after four revisions, become a fantastic camera. Photo by yours truly."
Mike replies: Put that taser down and step back slowly Stephen....
lyle allan: "Pretty, Yes! I had a chance to play with both at an Expo this weekend in Jersey. They are well balanced (with lots of different lenses) and easy to use. Either would be a joy to work with.
"I went to the expo to look at the new OM-D E-M1 Mark II. But for a $1K less, if one can give up all the 'steroid options' of the OM-D, the Pen might be the way to go...then again, the X-T20 priced in the middle, new sensor technology...decisions...."
Barry Reid: "It's a funny thing, but I love the retro stylings of Pen F but loathe the retro stylings of the X-T10/20. Which just goes to show how Marmite the whole retro thing can be. Thankfully I can't afford to consider either at the moment anyway.
"(After typing that I suddenly realised the readership of TOP is not solely British. Marmite is a yeast extract based spread which has a successful branding campaign based on the idea that you love it or loathe it. 'Marmite' has therefore become a term for anything people have strongly divided opinions on.)"
Paulo Bizarro: "But... if we were in 1986 (when the T90 was introduced), we would probably look back and say that cameras had been boring looking for decades: Leica-like, or SLR-like (say Nikon FM or Pentax). I like retro too, but to this day, nothing fits my hand better than the BBP that comes in the shape of the EOS 1V or its siblings."
JohnMFlores: "The aesthete in me wants to like retro. The futurist in me wants to let go of the past and chase the future. The photographer in me just wants a good hammer. More often than not, the photographer wins."