Just for fun, what's your favorite 35mm (or 35mm angle-of-view equivalent) lens? [UPDATE Sunday noon: Still awaiting the enigmatic oracular Oren's pick. Hoping to lure him out of his usual inscrutable silence. As Ctein (sincerely, not sarcastically) says, Oren sees things in lens performance most of us do not see. —Ed.]
This might sound odd, given that I've probably tried somewhere between 60 and 100 of them, but my favorite is probably the Fuji XF 23mm ƒ/1.4 R that I'm currently using. There's no geeky magic about it. It just seems to do everything very well. Performance, for sure, but even size, weight, the way it operates, and cost all seem to hit the sweet spot to me.
In second place for digital might be the Sony-Zeiss 24mm (the Carl Zeiss Sonnar T✻ 24mm ƒ/1.8 ZA E-mount prime lens). I'm pretty sure it's overpriced—it's not nearly the value the Fuji lens is, offering less in virtually all ways. I have a soft spot for it, though.
Dave Fishing, shot with the Zeiss 24mm
An honorable mention from the old days might be a Leitz-Wetzlar-labeled, Walter-Mandler-designed Summicron-R...but I only ever shot Tri-X with that one, and, of course, only on 16-MP sensors with both the other two, so it's tough to compare them meaningfully. There have been too many over the years, really. And all lenses yield their gifts.
Anything come to mind for you?
Mike
(P.S. I don't usually post on Saturdays, and I know fewer people are here today, but I shorted you last Monday, when my son and I were driving back from Cambridge via Vermont on the second-to-last-day of his visit here, which I very thoroughly enjoyed.)
Original contents copyright 2017 by Michael C. Johnston and/or the bylined author. All Rights Reserved. Links in this post may be to our affiliates; sales through affiliate links may benefit this site.
TOP/Yale Spring Photo Book Offer
(Ends June 30th or when supplies run out)
(To see all the comments, click on the "Comments" link below.)
Featured Comments from:
Maggie Osterberg: "Without a doubt, it's got to be the Zeiss M 35mm ƒ/2.8 C-Biogon. It's compact, has a perfect focus throw, a nice metal nubbin focus tab and is insanely sharp, 3-D-ish, and sits in the Goldilocks Zone of contrast. Sure, it's a slow lens, but if there's enough light, it is stellar. I used it exclusively on my Cuba trip with Peter Turnley."
Gordon: "The Fujinon XF 23mm ƒ/2 R WR has been practically glued to my X-T2 since the day I bought it. Initially, I bought the XF 35mm F/2R WR for the camera and liked it, then purchased the 23mm for the 'few' shots where I thought I'd need it and discovered I 'need' it almost all the time. The focal length just seems right for the urban setting, where I make most of my photographs. In summary, the focal length, size, weight, IQ, and weather resistance are about all I could ask for."
Mike replies: That is just the perfect lens for the X-T2. That camera and lens would be worth having just for the sheer enjoyment.
hugh crawford: "I thought the 127mm ƒ/4.5 Ektar on a 4x5 Crown Graphic shooting Polaroid 655 Positive/Negative film was perfect in every way. Probably a high percentage of the iconic photos of the mid-20th century were shot with it and a big ass flash. The Nikkor 50mm on the Bronica S2a is a lens and camera I really miss. Sold it over 30 years ago and tried to buy it back from the woman I sold it to until I stopped shooting film regularly. Still like the negatives from it when I come across them.
"The best wide lens I ever had was a 47mm Super Angulon. Never liked any lenses in that range for 35mm film and I had a few. More a 15mm to 24mm kind of guy. I had a pair of Nikkor 24mm ƒ/2.8's that I used 90% of the time and they looked beautiful on film. Still have one that didn't get stolen with all the other Nikon gear, and it really isn't a very good lens for digital.
"I've been kind of disappointed with wide lenses in general for digital. Every time I buy one I return it. I think that there may be something that the film structure imposes on the image where you are seeing the film and not the lens that is more pronounced with wide lenses than with normal to mild telephoto lenses. And like I said I'm a wide angle kind of guy.
"Hmm, my wise-ass answer seems to have devolved into a metaphysical fugue. Still like that 127mm Ektar though."
Mike replies: Wait, I thought all your comments were metaphysical fugues!  :-)  Always appreciate what you have to say Hugh. And I think I agree with you about the 127mm Ektar.
Michael Poster: "The best 35mm (or equivalent) lens is the smallest one I can find to fit whatever camera I happen to be using."
William Schneider: "The one that suited me best was my Leica 35mm Summicron M—one of the pre-aspheric models. I liked it especially because it was very small. Sharpness suffered wide open, but it was still acceptable for some situations.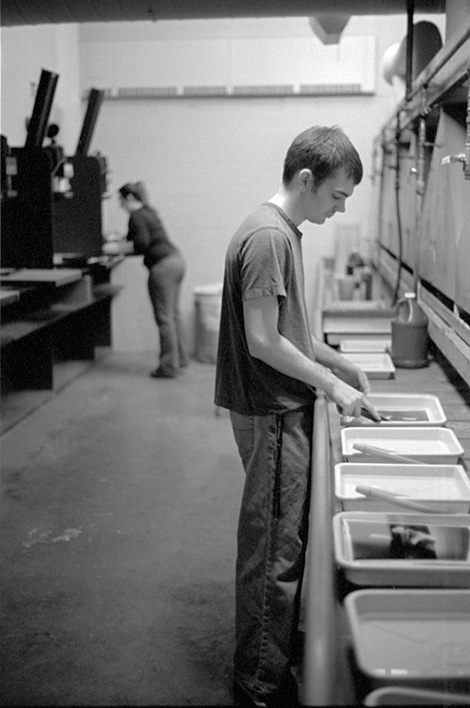 "Here's a shot made under darkroom safelight illumination. The exposure was one second at ƒ/2 on Tri-X, steadied by a wall behind me."
Robert: "Almost any 35mm ƒ/1.4 will be a good lens. They are fast and expensive and tend to be among the best of any lensmaker. But the Leica Summilux is divine."
Darryl: "Add one more vote for the Fuji X100, in my case a T. I had never seriously looked through 35mm before and it was mostly opinions from this site that convinced me to try it. I am very happy that I did."
Ricknin CO: "The Zeiss 35's are awesome. Probably the best bargain on the planet for a Leica M is the 35mm ƒ/2.8 Biogon-C. If you want wider, go for the 25mm ƒ/2.8 Biogon—either are the best values for the money on a Leica full frame. I started with the 25mm Biogon on an M8, so it qualifies for the 35mm equiv!"
Chris Fuller: "The Nikon 35mm ƒ/2 AF-D is the standard lens on my D700."
Mike replies: Another lens I know well. I believe I owned three of them over the years. The second of which suffered from the dreaded lubricant-leak problem, which, by the way, Nikon really did fix on later production runs.
Dave in NM: "I have lots of love for my pre-AI Nikkor 35mm ƒ/2 'K' lens—it was my favorite for years, shooting film. These days though, the lens that gets the most love from me shooting digital is the Nikon 35mm ƒ/1.4G. To my eyes, it's about as flawless a lens as I could ever hope for, with not so much character that it draws attention to itself, or so little that renderings feel clinical. Most of the pictures in my project 'The Fallen' were made with this lens."
David Karp: "My favorite is a Fujinon too, but it's my 125mm ƒ/5.6 Fujinon NW on a 4x5 camera." [Link added by Ed. —Ed.]
Kerstin: "Auto Takumar 35mm ƒ/3.5. I'm in love with that lens, either on an old M42 Pentax with FP4 film or with adapter on my Fuji X-E2. Not the fastest lens but the sweetest."
JG: "For me, it's Sigma's 35mm ƒ/1.4, because it has truly excellent image quality and also projects an image circle large enough to provide room for movements when used in combination with a Sony A7R and Cambo Actus combo (below). And it's reasonably priced, too!"
Henry Rinne: "When I was shooting A-mount Sony A850, I dearly loved the Minolta Maxxum 35mm ƒ/2. Extremely sharp with a lovely rendering. Very versatile—good for landscapes and people."
Mike replies: I still have one of those.
Hugh: "Canon 35mm ƒ/1.4L Mark II—big, heavy, expensive...but just about perfect at any aperture. For me, it has to be 35mm. Didn't like 40mm, 38mm, 30mm or 28mm (or equivalents) when I tried them."
Brian: "Without doubt, the Zeiss Distagon 35mm ƒ/1.4 ZM which does dual duty on my Leica M7 and Sony A7RII. Wonderful. Second is the Loxia 35mm ƒ/2. Very different rendering. I sometimes go out with both at the same time. I also like the Loxia on my A6500 with the nearly 50mm angle of view."
Curtis: "My son is an avid analogue photographer. It has been a great experience shooting film together this summer, and I've particularly enjoyed using the 35mm Summicron R (and all my old R lenses, really) on the Hunchback of Solms [as I once dubbed the R8 —Ed.]. There are lots of interesting new film stocks to try and I'm fortunate to have a good film lab near me."
Ilkka: "I have nine lenses that are 35mm equivalent or close enough. Might have forgotten one or two...excluding zooms. A few of them cover 35mm as well. Hard to pick one favourite but I used the 35mm Summicron on a Leica M a lot. Now I don't have a digital Leica so it sees very little use. On R I always liked the bit oddball 35mm ƒ/4 PA Curtagon. Quite compact for a shift lens and focused very close. Now on Micro 4/3 the 20mm ƒ/1.7 is a common fixture but I might pick up the Olympus 17mm—20mm feels a bit long, especially in the squarer 4/3 format, after some 40 years of using real 35mms."
Mike replies: That Curtagon was made by Schneider Kreuznach. Another sleeper as very few people have tried one or even seen one.
Mats: "Without a doubt, my favorite is the 35mm ƒ/2 that is permanently stuck on the front of a Konica Hexar AF. There is just something special about the way that lens draws a picture. It almost, only almost, makes me want to shoot film again!  :-)  "
Mike replies: I once tried to start a "Konica Hexar Club" on CompuServe.  :-)
Pak Ming Wan: "I'm surprised there isn't more in defense of the Leica Summicron-M 35mm ƒ/2 ASPH. I've used it for about five years (in chrome). It's small, got the right heft to balance an M body, precise, sharp, renders good contrast and colour, and has only very slight distortion (that can be corrected in Lightroom). The front element is relatively flat (and concave), so is easy to clean, and the hood track takes new and old lens hoods. Bokeh is acceptable (but I tend to shoot hyperfocal so, meh). What's not to love? Maybe the fact that it is a little too boring...."
Mike replies: I slightly prefer the Zeiss version (for a third the price, although that's not why I like it better)—here's a nice photograph taken with one, by Oleg Gronik—but they are both extremely fine lenses.