Photo by Saroyan Humphrey / Road & Track
"Random Excellence" means excellence encountered randomly, in homage to the roundabout way we come upon pictures (especially now, but in the past as well). My path to this one was an example: I got a promo email from Flyin' Miata in Colorado, which led me to their website, which led me to their description of a suspension package they sell that was originally used on a Miata privately owned by a guy named Richard Dekker from Edmonton, Alberta, Canada. Richard happened to be at an event called Miatas at Mazda Raceway, "an annual track day-slash-party at Laguna Seca that draws hundreds of cars and even more people," where it was driven by a Road & Track writer named Sam Smith, who included it an article called "Miatagasm"—which was illustrated with photographs by Saroyan Humphrey. Of which this is one. I think I only picked this particular one because, despite being a longtime fan of roadsters in general, the only one I ever actually owned myself was an NB Miata like this is based on. The car in in the picture is owned by Kenneth Dawson of Sacramento, California.
That led me on to the photographer's website. Saroyan (named for William Saroyan—how could it be otherwise?) turns out to be a working editorial and portrait photographer based in San Francisco who has a background as an art director and graphic artist. He obviously has a healthy career, as well as a healthy interest in motorsports, as motorsports entities are sprinkled liberally throughout his client list, and his only book so far is called Guide to Northern and Central California Raceways. He has a nice, loose, documentary-oriented kind of style that I prize over approaches that are more slick and cloying (which tend to be more common). 
The article is great, too. It shows how different track-day Miatas can be, how frequently they're modded, and it lets Sam Smith have serious fun throwing words around corners. Here's a sample. He's talking about a car owned by someone named Tarek Latouf that he describes as a "traditional, naturally-aspirated, high-rpm track build—rare in Miata circles, as turbocharging is usually cheaper." 
That engine! There's so much to be said for the old-school way of making speed: It sounds killer, for one. Snarly and clean. It's also cammy and weird; you have to rev the thing, like a stock Miata, but power delivery is gloriously light-switch. It's still a momentum car—still more grip than motor—and if you stay off the curbs, the front tires slide before the rears. Just gobs of throttle and short gearing. Hell of a device. What you'd build if you decided to get into Miatas and wanted the best noise possible.
I steal an extra lap in Tarek's Miata because it's just a sweetheart. It reminds me of the SCCA cars I grew up with, just a bright, chewy piece of candy.
Fun writing, fun to read. Not entirely coincidentally, if I could have any car in the world to keep—anything, top Ferrari, antique Bugatti—I'd pick an ND Miata with a Flyin' Miata suspension and a Cosworth Duratec crate engine. The engine would cost almost exactly as much as the car, which illustrates my basic lack of practicality even in daydreams, but the point I'm trying to make is that I like naturally-aspirated engines.
If this pick (pic pick?) leaves you cold, check out the article and consider all the illustrations together. If all of them leave you cold (not interested in cars, like I'm not interested in bugs or fashion?), reflect for a moment on the overlap between purely visual photographic interests and subject-matter interests. We do tend to photograph what we happen to have access to—cf. my current attraction to farmland, for instance—but often it's the what that drives us to photograph what we do. We seek it out.
Alexandre Buisse, who reads TOP, or at least used to, is a moutaineer and loves mountains. (Check out that spectacular shot of the hang glider). The late Dr. David S. Rosen MD was passionate about adolescents, who he photographed "in the wild" as a personal pastime in addition to be being an authority on adolescent medicine. A tintype photographer I met in Penn Yan merges his photographic hobby with his passion for antique firearms, making still-life tintypes that include vintage rifles. You wouldn't mistake the most typical work of any of these three for the typical work of either of the others. Our wider interests become our photographic interests as well. Eventually the two can sort of merge. That's often desirable, as it further establishes our individuality, our identities, as photographers.
It leads to a nice self-inquiry question: what would you dedicate yourself to photographing if you could dedicate yourself to photographing anything? Are you doing what you want to? Even the fantasy answer might be helpful as a clue.
Anyway, nice to "meet" Saroyan Humphrey through these varied virtual windows.
Mike
Original contents copyright 2017 by Michael C. Johnston and/or the bylined author. All Rights Reserved. Links in this post may be to our affiliates; sales through affiliate links may benefit this site.
TOP/Yale Spring Photo Book Offer
(Ends June 30th or when supplies run out)
(To see all the comments, click on the "Comments" link below.)
Featured Comments from:
Stephen Scharf: Ahhh....the Corkscrew at Laguna, 'drivers left.' I know exactly where that shot was taken from. Just for yucks, here's a shot from ages ago of AMA Superbike racer Eric Bostrom taken from the other side of that vantage point, from inside the Corkscrew.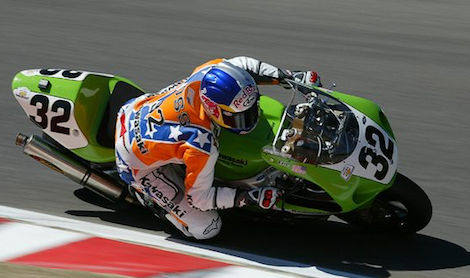 "Because of the position of the sun relative to the track, this perspective only works at a very specific time in the morning, which is why 99% of the photos you see of the Corkscrew are from the outside or at the bottom of one of the most famous corners in all of motorsports."
Rod S.: "Well, Mike, the car photo did leave me cold, as you put it. But so did the article, and the photos in it. Zero. I'm not even going to say 'Sorry.'
"But all was not lost: those photos of Alexandre Buisse made up for it all, and much more. Wow! The Climbing and Landscape portfolios are wonderful. They speak to me. I'd say 'check out that spectacular shot of the sun rays behind the Trango Group spires, above the Baltoro Glacier in the Karakoram Mountains (number 23).' But I relate to the subject matter, and have been at that very spot. Alex's mountain photos really put me back there. Good on him.
"What would I dedicate myself to, if I could? I already am. I'm photographing ancient architecture, particularly ancient Islamic architecture, using 4x5 large format, the proper way  :-)  . To date I've travelled twice from Australia to Iran, hired a car for 30 days and, with my partner, navigated ourselves around the country. I had my first exhibit last month. Here's the gallery listing."
Mike replies: Good on you too Rod! Great to get that update. A photographer with a good project is a happy photographer.
hugh crawford: "I must have thousands of photos from that spot just below the corkscrew. Stephan's shot from outside the corkscrew is pretty impressive. Where were you standing anyway, on a ladder in the gravel trap? My brother in law used to be on the board of directors at Laguna Seca and I spent a lot of time up on that hill, mostly on the historic weekend. I still get a lot of hits on my web page of Federico Kroyman ruining a nice F1 Ferrari.
"Mike you need something like a Lotus 7 replica. Eminently practical since you will have no illusions about using it for anything other than its intended use. Never-been-out-of-California NAs are going for $1,600 around here, maybe I should buy one out here and drive it to your place and 'store' it there. Then again it was 104°F today and the forecast is for 111°F tomorrow. That takes all the fun out of roadsters."
Mike replies: What do you mean by "around here"? Have you moved? I still have you filed in my head as living in Manhattan. Not the case? (I should mention that the file system is maintained by monkeys.)
This would have been the perfect Caterham (not strictly a "replica" Lotus Super 7, rather a descendant) for when I lived in Wisconsin...Packers colors! Having "Majik" Don Majkowski's number 7 on the grille doesn't hurt, either.