Why we shouldn't say "post" or
"Photoshopping" any more.
-
By Michael C. Johnston
all rights reserved
Ctein hates the term "post-processing." It's one of those (unfortunately all too common) terms that grew up twisted and parasitic, like an invasive species in the forest. "It's clinical and has a disparaging connotation," Ctein wrote. "It implies that 'getting it right in the camera' is somehow inherently superior, like the snobbishness one used to get from the Kodachrome users—'we get it right the first time.' What a load of B.S...." (He went on to point out that slide-film shooters were just making a virtue of a necessity—okay, "putting lipstick on the pig" was how he actually phrased it—because with slides you really were stuck with what you got out of the camera. Maybe they got it right the first time—there was some virtue in that, actually—but it was because they had no choice.)
He said "we really need a better term than 'post-processing.' It's off-putting and unnecessarily divisive. Mind you, I've got my individual answer which is, I don't post-process, I print. But that doesn't solve the larger language problem."
He asked me to think on it. Bad terminology is a particular bugbear of mine, because language can't keep up with technology—it needs more time to evolve. Ctein said he prints, but don't get me started on print and its modifiers—print being both a verb and a noun, and a printer being both a person and a machine! Yikes. A word so nice we have to slather it all over everything like pesticide on a potato field.
I ran across an analogous situation in psychology recently. Adult attachment, a relatively recent field, divides people into "secure attachment styles" and "insecure attachment styles." The insecure types are further divided into "anxious attachment style" and "avoidant attachment style." Nice examples of exceptionally poor terminology—all those terms are too long, all use words that have different meanings and other commonsense connotations and are frequently used in other contexts, and none go from the collective to the individual case easily. E.g., what do you call an individual person with an anxious attachment style? An "anxious"? Thanks, that's helpful.
The only term making inroads on "post processing" is "editing," based on the fact that some image-modifying software programs are being called "editors." Again, totally hopeless, since "editor" is a staff member at a publication and "editing"—in photography—more commonly means selecting shots to use from a larger amount of shooting. (At least "sequencing" is a separate word for that separate task. Be thankful for small felicities.)
If I could correct any of this I would, but I appear to have neither a gift for neologisms nor any influence in getting new terms to stick. Well, apart from bokeh. (Michael Reichmann got pixel-peeper to stick, which was impressive.)
But Ctein is right—"post-processing" (often abbreviated just to "post") is hopeless. It's even potentially misleading, not only for the reason he mentioned but because it implies it's what you do after the processing...which in film days meant the onerous chore of developing exposed film into negatives. We don't do "processing" at all any more; we just import (or send) and open the files. Right now, we use "post" to mean anything from clicking an Instagram filter that puts clown makeup on a face, to spotting a film scan, to wholesale computer-generated imagery like constructing a background that never existed for a catalog product shot. It's hopelessly vague, an "umbrella" term that covers everything, and that keeps its meaning well hidden—wholly unhelpful except as an arbitrary label. A nonsense word would work as well. We might as well call it brillig (in the slithy toves).
"Thinking on it," as Ctein asked me to do, I'm aware that I can't change accepted convention. But if I could, I think I'd change "post-processing" to "C-E-R." Pronounced "see-ee-are," as in the letters of the alphabet.
• "C" for correction, meaning the continuation of all the choices you made before and during shooting. You chose what camera (sensor) and lens to use, you chose where to where to look from and what to include and exclude. You chose, or could have chosen, white balance and exposure level and aperture and focus point and a number of other variables. "Correction" after the fact, once the image is imported to software, just continues those choices, to include minor cropping (or the cropping you visualized when you shot if it's major), cast correction (if the camera's automation made the picture too cool—too blue—you can change that), exposure range correction (slight "HDR" to retain highlight detail and reveal shadow detail for instance). Color balancing. Minor cleanup when something went wrong, for instance if your sensor has a hot pixel or a dust spot that creates a blemish in a sky. This is the sort of thing we all do even to snapshots and record shots and is pretty mild and habitual for a lot of us.
• "E" for enhancement, the addition of visual effects that you think might heighten the impression somehow. Changes in what's now called "clarity" (because that's what Adobe labeled it in Lightroom—better than "reverse unsharp mask" which is what the same thing used to be called before there was a slider for it), heightened saturation, local contrast for effect, sharpness past what human eyes can see, rebalancing of the tonal properties, HDR effects, vignetting, or selective lightening and darkening of areas to call attention to certain things and make others less obvious. "Structure" in B&W, because that's what hyping the local contrast and creating pseudo edge-effects is called in Nik Silver Efex.
• "R" for reworking, meaning the wholesale adding, subtracting, or changing of elements and/or meaning. Take another look at the "before and after" GIF that reader chris_scl supplied the other day of Steve McCurry's rickshaw picture: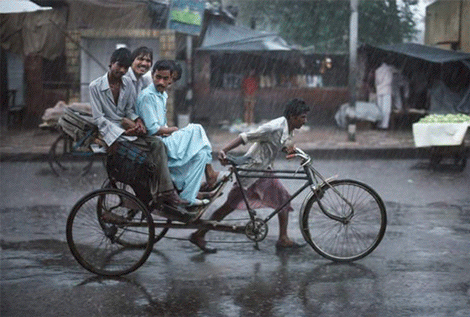 It becomes obvious how extensively the picture has been reworked. As several readers pointed out, the changes are many, and the extent of the reworking has changed the very meaning and feeling of the picture. How hard the driver is working, the busy-ness of the street, the mood of the passengers, and the signifiers of the presence of the photographer have all been altered. "Reworking" is currently called "Photoshopping," (or 'shopping or potato-chopping or any number of slang variants) which, again, as terminology, has so many things wrong with it I don't even have time to list them all.
"CER" as a term implies a progressive hierarchy of alteration to images in software, from very light correction to very heavy reworking, but you'll note that none of these three terms imply value judgements. Yes, formal photojournalism has restrictions in place against reworking, but photojournalists sometimes get away with enhancements that are pretty extreme—if this were a longer essay I could specify several examples. The other day I referred to reworked photographs as being "faked up," but that's really only a comment on my own personal value system—as a general descriptive term it's not helpful at all; for some artists and some enthusiasts, reworking is an indivisible part of their project and of the way they make their work or have their fun with imagemaking, and it can in some cases be planned or intended from before the moment of exposure. All three of the terms comprising CER are value-neutral.
And the three words, correction, enhancement, and reworking, are adaptable and have sensical* meanings. And they adapt to speech well, because you can just use the individual terms—"I have to do correction before I send the files." "She's an enhancer but she isn't into reworking."
And Ctein is right—there is utterly no intrinsic value in not doing CER. There's no such thing as "purism" in digital imaging (although each person or organization can choose their or its own principles.) It's taken for granted in digital imaging, and it should be (however you do it), because it continues the sequence of creative decision-making that characterizes the whole chain of image-making from initial idea to finished product. That whole chain is the "process," really. No part of it is "post" (i.e., preposition meaning after).
You'll never encounter the term CER again outside of this one single post about it by me. (See, there's that all-purpose word again, post.) Language settles where it settles, and like it or not we're stuck with the stinky little misshapen bastard term "post" for the software phase of digital imaging, and "Photoshopping" as a wholly unfair word for altering or reworking a digital image. C'est la vie.
Mike
(Thanks to Ctein)
*This is a made-up word that's a back-formation from nonsensical and commonsensical. It means something that has internal logic. I encountered it reading philosophy. It's not officially a real word, but I like it anyway.
P.S. I put my byline on this because some guy on Facebook ripped off my post from Sunday! He later apologized and posted a link, though, when Carl nudged him about it, so all is forgiven. But really, you can't steal stuff from the Internet just because it's on the Internet.
Original contents copyright 2016 by Michael C. Johnston and/or the bylined author. All Rights Reserved. Links in this post may be to our affiliates; sales through affiliate links may benefit this site.
(To see all the comments, click on the "Comments" link below.)
Featured Comments from:
Wes: "I prefer the term 'adjustments' to 'corrections.' I feel the latter has too much of a negative connotation in most people's minds, implying mistakes were made and need to be fixed. 'Adjustments'—while not perfect—is a much less negative, and still accurate, word."
Joe Boris: "File 'optimization' is how I describe post-capture workflow (charges) in my estimates and invoices. This seems to cover whatever final medium the image is being prepared for, whether for 'print' or 'electronic' display."
Keith B.: "The term 'post processing' to describe processing makes no sense. Just like 'micro contrast' (very tiny contrast??). I suspect, but have not determined with certainty, that the terms 'post' and 'post processing' are misappropriated adaptations of the terms 'post' and 'post production' used in motion picture work. In movie work, 'production' is the actual shooting of the film. Actors, sets, lighting, crew...and photography. 'Pre-production' is the work that precedes this: Hiring actors and crew, planning the logistics, designing and building the sets. 'Post production' is all the work that follows the shooting of the film: assembling the pieces (editing), mixing and dubbing sound, special photographic or computer-generated effects, recording music, etc. What we do with digital still photography after we shoot is analogous to, but obviously not exactly the same as, movie post production work. How 'bout we just call it 'processing?'"
Richard Newman: "I can't agree with Ctein and you on this. 'Post-processing' is accurate and appropriate. Every image coming from a digital camera has been processed, in varying degrees, through the camera's on-board computer. Even with raw images. And of course, most cameras today offer in-camera processing options of great variety. As for CER, its a nice concept whose definitions open a whole truckload of worms. Is HDR C or E or R? Many will beg to differ, no matter which choice is made. Ditto many less complex modifications to the initial image file. And what about files from the variable focus cameras? If you change point of focus, is that C or E or R? Or....?? I think of it as post-camera processing. And the term 'photoshoping' as become generic, much as xerox did for photocopying. It may not be aesthetic, but it isn't inaccurate."
Andrea Blum: "So from now on I'll be 'corrhancing' my photo files because as awkward as that neologism is, the word better describes what I do who does not print much and who mostly avoids any rework unless it involves a stray electric wire. I never could figure out what I was supposed to do after processing a photo! Whatever term may eventually catch on, thank you for this article. I had begun to think I was the only one who hated the term 'post processing.' It is nice to find that I'm in such good company!"
David Cope: "As an ex slide shooter I can tell you there was nothing snobbish about being told to shoot an assignment for production where it was expected you would get 'get it right the first time'! Mildly terrifying actually. Whilst there was pride in ones work when one did get it right the first time, the reality had more to do with copious bracketing and the occasional rescue attempt with the slide duplicator! CER (assuming the rights for this are now in the public domain otherwise my agent will need to contact yours to sort out a deal!)—I like where this is heading and will adopt for my work if I may. I'm definitely a C type person, with a bit of E as needed and never any R. (Well, so far!)"
John Sparks: "I used to post my film at the Post Office to the photo shop for printing by the printer on their printer so they could post the processed film and prints back to me so I could edit the prints. Now I just Photoshop my images in post and then post them on the Internet."
Mike replies: Exactly.
John Denniston: "I always thought this was simple. Processing is colour correction, cropping, straightening, HDR if needed, and cleaning up dust spots. Post-processing is adjusting the picture for specific output such as converting it to CMYK, checking for highlight dot, maximum ink limits, USM, and cropping to size. Or, it can be re-sizing for the web, changing the profile to SRGB, etc. Softproofing is also post-processing as you're making adjustments for a specific paper on a specific ink jet printer."
Joe (partial comment): "In the days of film, it was called darkroom work. In the days of digital, maybe it should be called 'screen' work since you are looking at a computer screen most of the time."
William Furniss: "My quotations have line items for 'processing' and 'retouching.' If necessary I explain that processing is adjusting raw files for colour and contrast. My clients seem happy with that. Retouching is apparently well understood at this stage and it sounds more serious than Photoshopping which I think infers a hacks fix of something gone wrong."
Mike replies: That seems like the best practical distillation of the issues to me. As a practical matter no one's ever going to use "CER" as a term; but "retouching" is a well-established word that makes a (fairly) value-neutral acknowledgement of what, for instance, McCurry's people did to the rickshaw photo. Also, this should please the people who insist that there's no difference between the darkroom and Photoshop, because you could retouch and change the look of the picture in both media.
Victor Bloomfield: "Edward Weston's take on post-processing, from his Daybook on 4-29-30 as quoted in My Camera on Point Lobos, p. 74: 'In my work the final form of presentation is seen on the ground glass, the finished print previsioned complete in every detail of texture, movement, proportion, before exposure. The shutter's release automatically and finally fixes my conception. The first fresh emotion is captured complete and for all time at the very moment it is seen and felt. Feeling and recording are simultaneous, hence the great vitality in such pure photography and its loss in manipulated photography. The nearest thing to it is a quick line sketch, done usually as a note for further elaboration. And how much finer, stronger, more vivid these sketches are than the finished painting.'"