Here's a photograph called Light Through Tulip by John Lehet.
Here's the photograph as it appears on the photographer's website:
Here's the book Phyla of Joy: Poems by poet Karen An-hwei Lee, cover designed by Howard Klein:
Front cover
Back cover
Here's Karen An-hwei Lee's Phyla of Joy on the publisher's website:
Here's photograph of Karen reading from Phyla of Joy:
Photo by Chelsea Knight / Campus Times
And here's the book on the Amazon page
(note that it can be purchased from the publisher, where more of your money goes to the right people):
Covers
One of the things that was being discussed when I got into photography in the early '80s was the runaway success of a then-new product called the compact disc (CD), and photographers were grousing about how much less real estate a CD cover had relative to a vinyl record cover. Twelve inches square was a pretty nice size, and record covers were convenient billboards for a lot of artists' and illustrators' and photographers' work.
[This is Art (note the camera used)]
I always wanted to requisition a cover of the magazine I edited for one of my own pictures, and I thought of asking the editors of other magazines I wrote for if I could submit work for consideration. But I never did. Although I chose many covers, I never got one of my own pictures on one.
"Covers" as a cultural phenomenon are going downhill now too, as magazines begin to sift downwards in importance and popularity. Paper books still have covers, although the digital tsunami is well up on the horizon for paper books as well. The idea of a "cover" still has a lot of magic for me, but that's might end up being a generational thing. (It lasted for many generations, though.)
Two of Lee Friedlander's many album covers. Jay Maisel did the cover of Kind of Blue, although I've heard that bloggers reproduce that artwork at their potential peril, so you'll have to be content with a mention.
A photographer I worked with on one cover, Douglas Dubler, had 750 magazine covers to his credit, and that was in the '90s. I once chose a cover picture taken by a New York city high school student of a high school friend in a photography class. Far from taking advantage, I requisitioned extra money so the model could be paid as well as the photographer, and made sure they both got multiple copies of the magazine. I hope they each still have a copy or two, wherever life has taken them.
Did you ever get a cover published? Of anything? Something you're proud of? May we see?
Mike
P.S. Once again, here's how to post a picture in the Comments section: 
In this case the image must not be more than 470 pixels wide, or it will be cut off. (TypePad isn't really set up for images in the Comments; sorry this isn't easier.) Again, you can always just link to your image:
...Where "text" = the words you want to be linked. I'm going to be traveling all day tomorrow—going to see S.—but I'll try to moderate comments during downtime from my phone.
If I manage to find that student cover, I'll post it, but no promises. I'll also try to solicit comments from some of the people involved in the Phyla of Joy cover I used as an example here—several of them are friends.
Mike
Original contents copyright 2015 by Michael C. Johnston and/or the bylined author. All Rights Reserved. Links in this post may be to our affiliates; sales through affiliate links may benefit this site.
(To see all the comments, click on the "Comments" link below.)
Featured Comments from:
Mark: "Yes, I do have one cover to my name but sadly, I don't have a copy of it. GRRRRR!!! In September 1989 I photographed a major Ferrari Club of America concours event and one of my shots was selected for the cover of the December issue of Prancing Horse magazine. I never got a copy of the magazine but I did get photo credit and was invited back to shoot the event in 1990 as well. So instead of being a major publication it was simply a large circulation club magazine but it was indeed a cover."
Editor Jim Schley: "Oh, what a pleasure to see this 'spread' in TOP, with a nexus of connections. I was the editor for this book Phyla of Joy, and TOP editor Mike Johnston is my childhood best buddy, and I shared a home for a couple of years with the photographer John Lehet, who at that time had a traditional darkroom at the back of the house.
"One of my very favorite roles in my work with the book publisher Tupelo Press is serving as the liaison between authors and graphic designers, in this case poet Karen An-hwei Lee and artist Howard Klein, and that gorgeous photograph serves so very well: Karen's poems in this book are both delicate and tensile; often quiet and yet powerfully musical, even exclamatory; and true to the book's title, extraordinarily joyful. And the photo has such shapeliness and luminosity, which Howard's design celebrates."
Joe Holmes: "I've gone to a lot of trouble for many of my photos: I've driven for hours, carried lights and stands and camera bags on the subway, frozen my ass off hiking through the snow.
"But one day I stepped 20 feet outside my front door and spent five minutes taking a photo that became one of the few book covers I ever sold: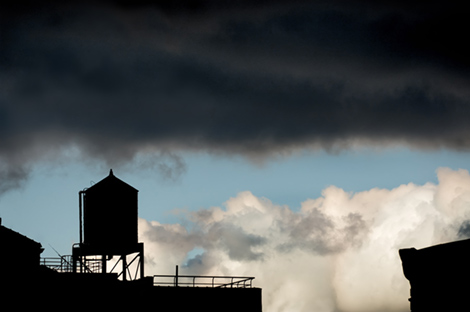 "It was licensed for both the hardback and paper versions of the Ha Jin short story collection A Good Fall...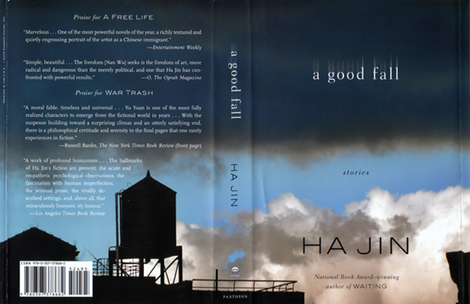 "...and for the Japanese version, which I bought in a bookstore on a trip to Tokyo: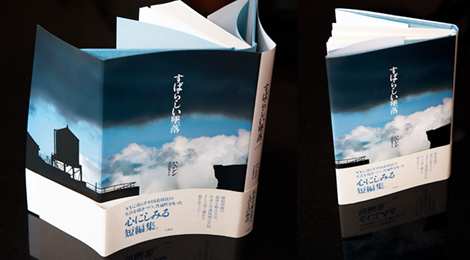 "A guy in that publisher's art department liked my work and licensed at least one or two other images, but he moved on and I haven't had any more covers.
"It still gives me a thrill to see my image on a book!"
Shaun: "I've had the good fortune to get several covers, including this LensWork #77 cover:
Andrew Lamb: "I've had a few, five or six max.
"There's one on my website of Sienna Miller. The story behind it is more interesting than the actual photo. The magazine was told that they could have access to Ms. Miller for five minutes and they were determined to get a cover out of this, as well as some shots for inside the mag. We got about three minutes. I wasn't allowed to wait for the Polaroid to develop. Sienna was polite but tense and kept jumping up and down, making it difficult to focus on her (we were in a very dark hotel room). All the time, as I photographed her, the PR kept screaming in my ear 'This cannot be a cover!' I took 14 frames and then she was gone.
"We got the cover and shots for inside the mag but I was sick with stress all through the night. I'm not a huge fan of Annie Leibovitz but I have immense admiration for her. She must have a constitution of iron."
Paul Amyes: "Oh I remember the thrill of my first front cover. I kept going into newsagents just to see the magazine on the shelf. I've also done a few album covers as well. My last front cover was for the last book I wrote. being the author and photographer means you stand a very good chance of getting a front cover!"
Author Karen An-Hwei Lee: "With luminosity and grace, John Lehet's Light through Tulip embodies so well the unfolding interiors—the phyla of languages, the phyla of natural creation—I explored through the poems in Phyla of Joy (Tupelo 2012). The cover design harmonized not only with the collection, but with Jim Schley's circle of friends. What a delight!"
Andy [Andrew Midgley]: "I'm very proud to have the cover of the Landscape Photographer of the Year 8
book (2015) in the UK."
Slobodan Blagojevic: "I had a cover of a British magazine, Digital Photographer."
Dennis: "No cover for me. But have you seen this?"
Mike replies: It figures that would be a "thing." I still like "This is Art," though, not least for its title. Thanks Dennis.
Photographer John Lehet: "That's my tulip, and a funny thing is that I just got another cover with tulip petals, this one. My covers have mostly been for poetry books, but I've also had a few on Christian religious books, which is a little funny since not only am I a Buddhist, but I think of my photography as coming very much from a Buddhist sensibility. I'm not very Christian at all. The recent tulip is for such a Christian book, still in page layout phase.
"These two tulips/covers are very different in their photographic origins. The Light Through Tulip was made with a relatively poor, by modern standards, point and shoot. It was one of those lucky things; I was someplace and had a camera in my pocket. It was before we had phones and devices and such. It just happens to work very nicely in spite of any technical shortcomings. The Two Wet Petals was made with 120 Fuji film and a reasonably good Pentax Macro lens, a long time ago. Meanwhile I have so many unpublished flower petal images exposed with modern lenses and good sensors, still in Lightroom and unseen. Maybe I should push more of those into the world. Books want covers!"
Joseph Reid: "I've had a handful of book covers. This was my first:
This is the original:
"It's always a great surprise when I hear about a cover. Even more of a surprise when I spot it in a bookstore because most of them have been outside the U.S."
Phil Aynsley: "Some of mine (taken from my website page):
Ed Hawco: "I'm repeating myself, because I already told this story here last year, but I can't resist. From my previous comment:
"Here's an odd photo I shot through a car window as I was being driven home one somewhat beery night. It's a gas station near my house, with a ubiquitous Tim Horton's coffee shop bolted on to the side. Anyone in Canada knows that Tim Horton's is everywhere; it's like a Canadian institution, particularly in small towns where it is often the hub of social gatherings. (One joke runs "I went into a Starbucks, and there was a Tim Horton's inside.")
"I didn't think much of the photo when I first saw it, but the more I thought about it, the more I realized it was emblematic of a typical Saturday night in small-town Canada, where the gas station and the Tim Horton's is the brightest place around, and they attract people like flies to a streetlight. The fact that it was blurry seemed appropriate for a boozy Saturday night, so I put it on my (now dormant) photo blog and called it "Saturday Night in Canada."
"I considered taking it down a few times, as it's not what I'd call the zenith of my repertoire, but there was something about it that made me feel nostalgic for my misbegotten youth, so I kept it there.
"Good decision, as it was spotted by a university professor who was publishing a book on public policy in Canada. He bought reproduction rights and used the photo on the cover of his book!
"And here's the resulting book:
Simon: "This one of mine was used for the paperback version of Tim Dee's Four Fields...
"It's a field just down the road from where I live in south west Scotland—there's a bloody great wind turbine on it now!"